Zoom Rooms with TelyCam and Phoenix Spider for Medium Conference Rooms
Product Description
Turn any room into a cloud-based conference center!
| | | |
| --- | --- | --- |
| | & | |
TelyCam TLC-300-U3S Zoom Rooms Bundle - Best Zoom Rooms Kit Available!
The Easiest, Fastest, Highest Quality Plug-and-Play USB Video Conference Camera You Can Find at this Price Online! Even if You've Tried Other Cameras…You NEED to See This for Yourself! Finally! After years of painstaking, exhausting, expensive research and testing…we have found a HD USB Pan-Tilt-Zoom (PTZ) Video Conference Camera that's more than good enough to put our trusted reputation on. The TelyCam TLC-300-U3 HD-USB 3.0 & DVI video out PTZ video conference camera. This is by far the best camera we have tested with price and performance…we know this will make your meetings much more productive and boost your efficiency immediately!
Powerful Intel NUC for Video Conferencing
VCG only believes in selling equipment we have personally tested so you get the best possible solution for the price. The Intel Skull Canyon NUC has become our go to device for conference rooms. All our NUC's come bundled with 16GB RAM, 120 SSD, Windows 10 Pro to get you up and running fast. In addition the NUC can handle up to 3 monitors although we recommend tow. Solid state all the way through and 1 inch thickness to easily hide behind a monitor with the included mount. Trust that you are buying a high quality device that will give you years of service from VCG. Over time numerous video conference software companies have bulked up their software or require heavier processing power, going with a i7 Quad Core and 16GB of RAM has made the updates run smoothly every time.
The Perfect Sized Speakerphone
Voice quality is the second biggest problem with video conferencing. When it's difficult to hear people, or to be heard, the meeting goes no where. That's why we just love the Smart Spider Speakerphone from Phoenix audio. It has all the features you'd expect from a top-tier product, along with a price that matches your room size perfectly. Phoenix knows audio and we believe they are one of the best.
JAM! (Just add Monitors)
Zoom Rooms require numerous components and can create confusion. We believe you should get high quality components that have been tested and give you the best experience for your dollar. VideoConferenceGear.com tests everything before we recommend it or sell it online.
We've made it easy to order Zoom Rooms kits. No longer do you have to go through multiple suppliers to get your Zoom Rooms solution. Below is the list of equipment we provide in the TelyCam Zoom Rooms kit
Overview - Video
Overview - Slideshare
TelyCam TLC-300-U3S Zoom Rooms Bundle
Video Conferencing Camera

Full Pan-Tilt-Zoom 12X Digital Zoom
72.5 Degree Horizontal Field of View
100% Plug-and-Play, "No Headache" Installation
Flexible Mount Options

Speakerphone

Four microphone beamforming array

Full duplex communication

Echo cancelling and noise suppression

Automatic gain control

Daisy chainable with single source daisy chain powering

Bridging between USB and "Smart" device

Internal battery

Room Controls

Quad Core Power house @ 2.6 GHz.
Runs Zoom Rooms Application and becomes like an appliance
i7 Quad Core, 16GB, 120SSD, Windows 10 Pro
Back of Monitor Mount included

Logitech Wireless Keyboard and Mouse

Used for initial set up and or running other applications

iPad Mini 4 for Zoom Rooms Control

Brand new Apple iPad Mini 4
Gives simple and intuitive controls for your Zoom Rooms

Heckler Design Meeting Room Console for iPad Mini

Keep your iPad Mini safe with tamper resistant features
Positions iPad Mini ergonomically for conference rooms
Low profile

Accessories

All Cables included

2 - Ultra Slim 18Gbps Active High Speed HDMI Cable, 6ft Black
1 - Mini DisplayPort 1.2a / Thunderbolt™ to 4K HDMI® Passive Adapter, Black
1 - APC USB EXTENSION OVER CAT5/6
High level overview of the TelyCam TLC-300-U3S Zoom Rooms Kit: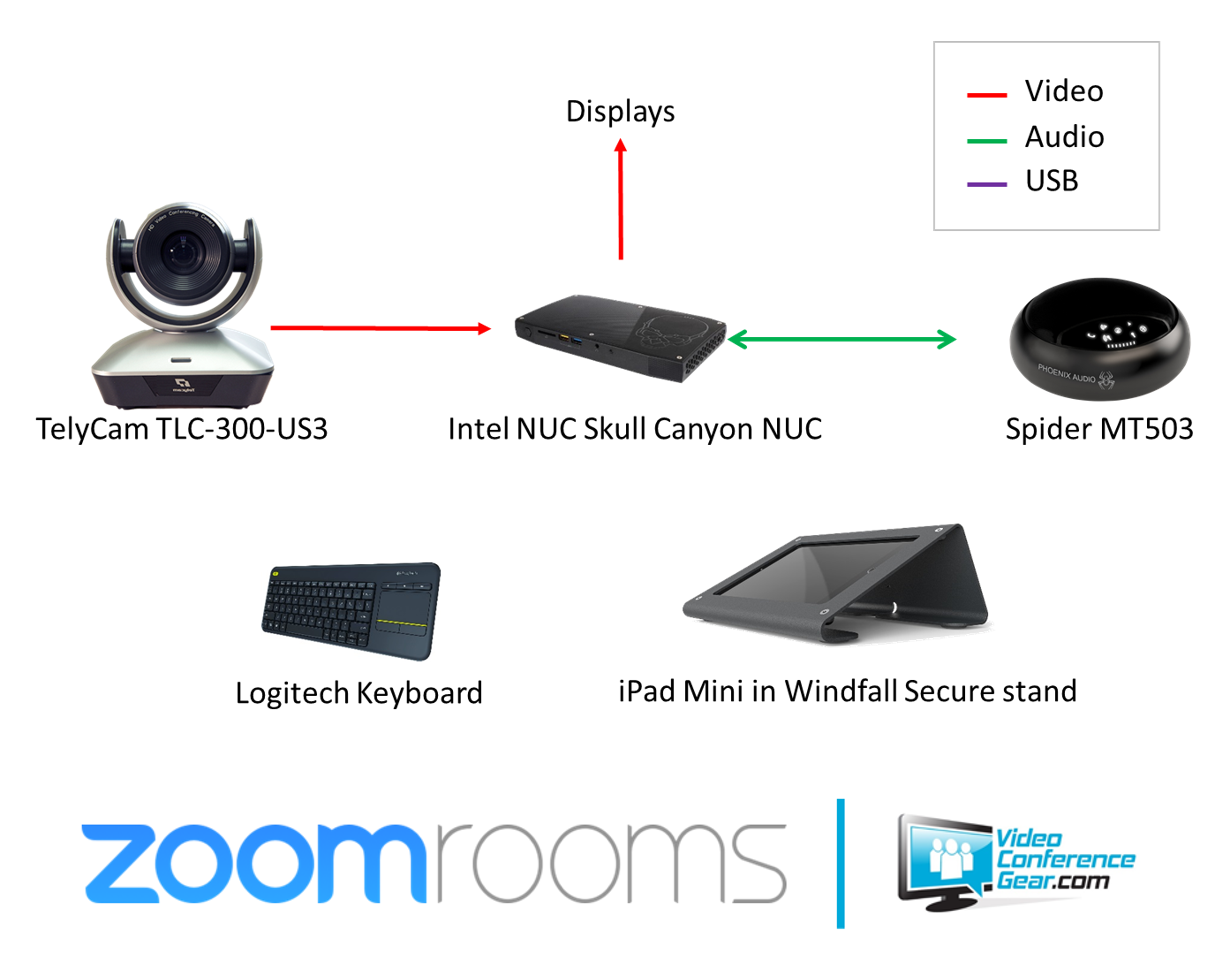 Ready to turn YOUR room into a powerful cloud conferencing room in just seconds?
Need more information on the Zoom Rooms Kit
Give us a call at (720) 753-4560 or email us and we'd be happy to answer all your questions! Your satisfaction is our #1 goal.
Product Reviews
Find Similar Products by Category
Customers also viewed