Highlights
Camera Mount for Logitech Scribe
Mounts on both thick and thin white boards
Easy Setup and Installation
Secure with All Metal Construction
Color: White
Resources
Heckler H872 Whiteboard Mount for Logitech Scribe (white)
Logitech Scribe makes it easy to effortlessly share whiteboards into video meetings. With video meetings taking place throughout your workspace you'll want your whiteboard cameras to be as mobile as your whiteboards. Heckler Whiteboard Mount for Logitech Scribe enables you to create incredibly fluid collaboration wherever your team may be.
Compatible Devices: Logitech Scribe White Board Camera

Features
Rigid aluminum construction.
Compatible with conventional and glass whiteboards and dry-erase boards.
Adjustable clamping mechanism adjusts to clamp
to boards from 5mm to 25mm thick.
Rubber pads securely grip your board, and clamping pressure is distributed evenly across the mounting surface.
ADA compliant when mounted to 72-inch tall (above finished floor) whiteboards.
The optional stay-in-place tab ensures Logitech Scribe stays in place when your mobile whiteboards are on the move.
Toolless installation and removal. Share your Logitech Scribe cameras throughout your workplace.
Hides and routes the CAT cable.
Easy installation.
Scratch & fingerprint resistant, powdercoat finish.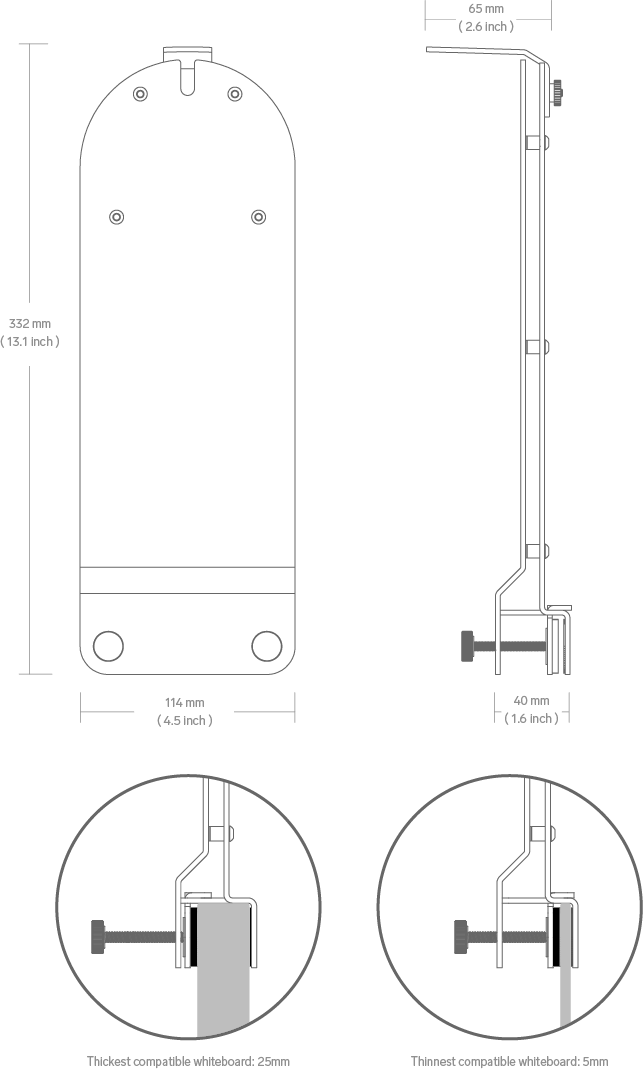 In the Box
Scribe Mount (white)
Mounting Hardware
Installation Instructions
Warranty Information
This item comes with Manufacturer's warranty.
Product Videos
Custom Field
Product Reviews
Nationwide Services - Design, Installation & Support - A Partner You can Trust
We have a full range of services available for your Video Conferencing projects - from a single room, to a nationwide rollout. We can help you design, configure, install and support your organizations video conferencing needs. We know first hand how video conferencing products for your meeting rooms can create confusion, when you're buying multiple components. We believe you should get high quality products, from the best manufacturers - then buy from a partner who tests what they sell, and gives you the best experience for your dollar. At VideoConferenceGear.com, we do that - we only represent the best and test everything we sell before we recommend it or sell it online.